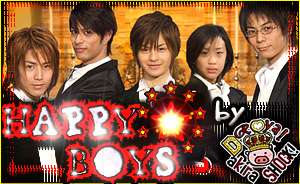 Happy Boys
Brought to you by Akira SHOCK! Fansubs and D-Royal Fansubs!

* Title: ハッピィボーイズ / ハッピィ★ボーイズ
* Title (romaji): Happy Boys / Happy★Boys
* Format: Renzoku
* Genre: Comedy
* Episodes: 13
* Theme song:
o Opening theme: KARENA by SHAKALABBITS
o Ending theme: Motto Tooku-ni by WALKABOUT

Synopsis

A comedy following five young men who work at Lady Braganza, a shitsuji kissa (butler café).

Cast

* Seto Koji as Segawa Kyoichi
* Kamakari Kenta as Akasaka Junta
* Kato Keisuke as Kitamura Kosuke
* Shindo Gaku as Inada Gen
* Nagashima Shugo as Tsuruoka Kokoro
* Sugawara Eiji as Fukawa Kiichi
* Fujimura Shunji as Shikawaichi Kura
* Tanaka Tetsushi as Katano Sakatoru





All Megaupload, Sendspace and Mediafire links can be interchanged. Remember to use HJSplit or like program to join the parts together!

Download the whole batch of episodes at D-addicts on torrent here!





Project #51
Translator: frutips_centre, Ayau3, hoshinoyuki
Editor: shy_hinata
Timer: Eleyn09, Zindagi, Alecsa_chan
Qualty Control: Suboshiyui, Bigmow
Karaoke: Rosevic87
Typesetter: Suboshiyui
Encoder: Eleyn09

Megaupload - full episode
DivShare - Part 1 Part 2

Interchangeable
Megaupload - Part 1 Part 2 Part 3
Mediafire - Part 1 Part 2 Part 3
Sendspace - Part 1 Part 2 Part 3






Project #52
Translator: frutips_centre, Ayau3, hoshinoyuki
Editor: shy_hinata, stolenaxel
Qualty Control: Suboshiyui, the_suit_case
Timer: Zindagi, Alecsa_chan
Karaoke: Rosevic87
Typesetter: Suboshiyui
Encoder: sainou86

Megaupload - full episode
DivShare - Part 1 Part 2

Interchangable
Megaupload - Part 1 Part 2 Part 3
Mediafire - Part 1 Part 2 Part 3
Sendspace - Part 1 Part 2 Part 3






Project #53
Translator: frutips_centre, Ayau3, hoshinoyuki
Editor: shy_hinata, stolenaxel
Timer: Eleyn09, Zindagi, Alecsa_chan
Qualty Control: Suboshiyui, the_suit_case
Karaoke: Rosevic87
Typesetter: Suboshiyui
Encoder: sainou86

Megaupload - full episode
DivShare - Part 1 Part 2

Interchangable
Megaupload - Part 1 Part 2 Part 3
Mediafire - Part 1 Part 2 Part 3
Sendspace - Part 1 Part 2 Part 3





Project #54
Translator: hoshinoyuki, frutips_centre, Ayau3
Editor: shy_hinata, stolenaxel
Timer: Zindagi, Alecsa_chan
Qualty Control: Suboshiyui, the_suit_case
Karaoke: Rosevic87
Typesetter: Suboshiyui
Encoder: sainou86

Megaupload - full episode
DivShare - Part 1 Part 2

Interchangable
Megaupload - Part 1 Part 2 Part 3
Mediafire - Part 1 Part 2 Part 3
Sendspace - Part 1 Part 2 Part 3






Project #55
Translator: hoshinoyuki
Editor: shy_hinata, stolenaxel
Timer: Eleyn09,
Qualty Control: Suboshiyui, lunarsweetie
Karaoke: Rosevic87
Typesetter: Suboshiyui
Encoder: sainou86

Megaupload - full episode
DivShare - Part 1 Part 2

Interchangable
Megaupload - Part 1 Part 2 Part 3
Mediafire - Part 1 Part 2 Part 3
Sendspace - Part 1 Part 2 Part 3






Project #56
Translator: hoshinoyuki
Editor: shy_hinata, stolenaxel
Timer: Alecsa_chan,
Qualty Control: Suboshiyui, Big Mow
Karaoke: Rosevic87
Typesetter: Suboshiyui
Encoder: sainou86

Megaupload - full episode
DivShare - Part 1 Part 2

Interchangable
Megaupload - Part 1 Part 2 Part 3
Mediafire - Part 1 Part 2 Part 3
Sendspace - Part 1 Part 2 Part 3





Project #57
Translator: hoshinoyuki
Editor: shy_hinata, stolenaxel, yobebi
Timer: Eleyn09,
Qualty Control: Suboshiyui, Bigmow
Karaoke: Rosevic87
Typesetter: Suboshiyui, Bigmow
Encoder: sainou86

Megaupload - full episode
DivShare - Part 1 Part 2

Interchangable
Megaupload - Part 1 Part 2 Part 3
Mediafire - Part 1 Part 2 Part 3
Sendspace - Part 1 Part 2 Part 3






Project #58
Translator: hoshinoyuki
Editor: shy_hinata, stolenaxel,
Timer: Alecsa_chan,
Qualty Control: Suboshiyui, Bigmow
Karaoke: Rosevic87
Typesetter: Suboshiyui, Bigmow
Encoder: sainou86

Megaupload - full episode
DivShare - Part 1 Part 2

Interchangable
Megaupload - Part 1 Part 2 Part 3
Mediafire - Part 1 Part 2 Part 3
Sendspace - </a> Part 1 </a> Part 2 </a> Part 3





Project #59
Translator: hoshinoyuki
Editor: shy_hinata, yobebi
Timer: Eleyn09,
Qualty Control: Suboshiyui, Bigmow
Karaoke: Rosevic87
Typesetter: Suboshiyui
Encoder: sainou86

Megaupload - full episode
DivShare - Part 1 Part 2

Interchangable
Megaupload - Part 1 Part 2 Part 3
Mediafire - Part 1 Part 2 Part 3
Sendspace - Part 1 Part 2 Part 3





Project #60
Translator: hoshinoyuki
Editor: shy_hinata, stolenaxel
Timer: Eleyn09,
Qualty Control: Suboshiyui, Bigmow
Karaoke: Rosevic87
Typesetter: Suboshiyui, Bigmow
Encoder: sainou86

Megaupload - full episode
DivShare - Part 1 Part 2

Interchangable
Megaupload - Part 1 Part 2 Part 3
Mediafire - Part 1 Part 2 Part 3
Sendspace - Part 1 Part 2 Part 3





Project #61
Translator: hoshinoyuki
Editor: shy_hinata, yobebi, stolenaxel
Timer: Eleyn09,
Qualty Control: Suboshiyui, Bigmow
Karaoke: Rosevic87
Typesetter: Suboshiyui, Bigmow
Encoder: sainou86

Megaupload - full episode
DivShare - Part 1 Part 2

Interchangable
Megaupload - Part 1 Part 2 Part 3
Mediafire - Part 1 Part 2 Part 3
Sendspace - Part 1 Part 2 Part 3






Project #62
Translator: hoshinoyuki
Editor: shy_hinata, stolenaxel
Timer: Eleyn09,
Qualty Control: Suboshiyui, Bigmow
Karaoke: Rosevic87
Typesetter: Suboshiyui, Bigmow
Encoder: sainou86

Megaupload - full episode
DivShare - Part 1 Part 2

Interchangable
Megaupload - Part 1 Part 2 Part 3
Mediafire - Part 1 Part 2 Part 3
Sendspace - Part 1 Part 2 Part 3






Project #63
Translator: hoshinoyuki
Editor: shy_hinata, yobebi,
Timer: Eleyn09,
Qualty Control: Suboshiyui, Bigmow
Karaoke: Rosevic87
Typesetter: Suboshiyui
Encoder: sainou86

Megaupload - full episode
DivShare - Part 1 Part 2

Interchangable
Megaupload - Part 1 Part 2 Part 3
Mediafire - Part 1 Part 2 Part 3
Sendspace - Part 1 Part 2 Part 3


Please do not upload to online streaming sites. Please read our rules for further information.

Drop a comment if you're snagging please. ^_^