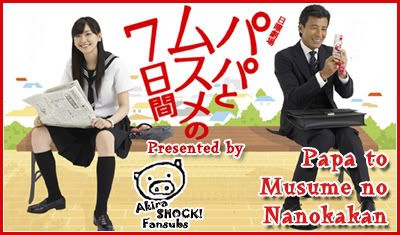 Project #9
Papa to Musume no Nanokakan
Información
Titulo:
パパとムスメの7日間

Titulo (Romaji): Papa to Musume no Nanokakan
También conocido como: Siete días de un papá y su hija
Formato: Renzoku
Genero: Comedia
Episodios: 7
Red de transmisión: TBS
Tiempo de duración: 2007-Julio-01 to 2007-Agosto-12
Tiempo al aire: Domingos 21:00
Theme song: Hoshikuzu Sunset by YUKI

Esta comedia cuenta la historia de Kyoichiro (Tachi Hiroshi) y su hija adolescente Koume (Aragaki Yui). Un día, los dos viajan en un tren después de haber visitado a la suegra de Kyoichiro. El lo ve como una oportunidad para conocer más a su hija, pero termina consiguiendo más que eso – debido a una fuerza misteriosa ambos, Kyoichiro y Koume, terminan con la mente en el cuerpo del otro! Desafortunadamente, no tienen otra opción que intercambiar sus vidas, uno pretendiendo ser el otro en el trabajo y la escuela.