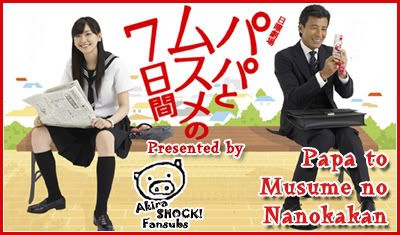 Project #15
:
Papa to Musume no Nanokakan
- 2 of 7
Information
Title:
パパとムスメの7日間
Title (Romaji):
Papa to Musume no Nanokakan
Also known as:
Seven Days of a Daddy and a Daughter
Format:
Renzoku
Genre:
Comedy
Episodes:
7
Broadcast network:
TBS
Broadcast period:
2007-Jul-01 to 2007-Aug-12
Air time:
Sunday 21:00
Theme song:
Hoshikuzu Sunset
by YUKI
This home comedy tells the story of Kyoichiro (
Tachi Hiroshi
) and his teenage daughter Koume (
Aragaki Yui
). One day, the two ride a train together after visiting Kyoichiro's mother-in-law. He sees it as a chance to get to know his daughter better, but he ends up getting more than that - by some mysterious force, both Kyoichiro and Koume end up with their mind in the other's body! Unfortunately, they have no choice but to swap lives, pretending to be each other at school and work.
Cast
Tachi Hiroshi as Kawahara Kyoichiro
Aragaki Yui as Kawahara Koume
Kato Shigeaki as Osugi Kenta
Morita Ayaka as Nakayama Ritsuko
Yashima Norito as Nakajima Kokai
Sada Mayumi as Nishino Wakako
Asou Yumi as Kawahara Rieko
Sasaki Sumie as Kokueda Hisoka
Emori Toru as Watanabe Takeshi
Natsuko as Hirata Saori
Takada Nobuhiko as Sakuragi Shinichi
Imai Rika as Shiina Kanako
Takayama Yuuko as Takagi Mika
Owada Kensuke as Ozeki Tomohiro
Kaneko Kenji as Maeda Koichi
Miyashita Yuji as Mifune Wataru
File Information
Size:
294 MB
Bit Rate:
128kbps
Audio Format:
MPEG Layer-3
Frame Rate:
29 frames/second
Data Rate:
107 kbps
Video Sample Size:
12 bit
Video Compression:
XVID
Subbing Team
Translators:
Hwen, Lindsay, Bryan, Anna, and Olivia
Timer:
Kamika
Quality Control:
Luna, Phuong and Mary
Encoder:
SacredCultivator
Download Infomation
{D-addicts} - [
Torrent
{Megaupload} - [
Part 1
] [
Part 2
]
{MediaFire} - [
Part 1
] [
Part 2
] [
Part 3
] [
Part 4
]