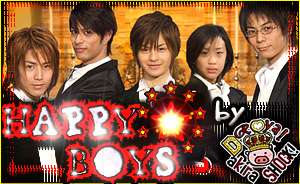 Happy Boys
Brought to you by Akira SHOCK! Fansubs and D-Royal Fansubs!
* Title: ハッピィボーイズ / ハッピィ★ボーイズ
* Title (romaji): Happy Boys / Happy★Boys
* Format: Renzoku
* Genre: Comedy
* Episodes: 13
* Theme song:
o Opening theme: KARENA by SHAKALABBITS
o Ending theme: Motto Tooku-ni by WALKABOUT
Synopsis
A comedy following five young men who work at Lady Braganza, a shitsuji kissa (butler café).
(
Collapse
)
Please
do not
upload to online streaming sites. Please read our
rules
for further information.
Drop a comment if you're snagging please. ^_^