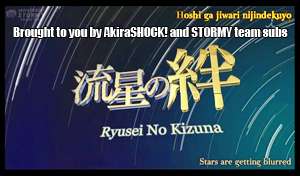 Project #51: Ryusei no KizunaEpisode 1Brought to you by: Akira SHOCK! Fansubs & STORMY team sub!
Thank you goes out to all those that were patient with us. This is the first collaboration effort between AS! and STORMY and we're looking forward to bringing you more great releases. Episode 2 is almost ready for release, so look for that next week.
Synopsis:
Based on the popular novel of the same name, Ryusei no Kizuna tells the story of three orphans, whose parents were murdered long ago. Together, the three vowed on a shooting star to one day avenge their parents. After many years, the two brothers have found the murderers, and are set to carry out their plan for vengeance when they realize they've made a serious miscalculation; you see, their sister...
(
Collapse
)
Please do not upload to online streaming sites. Please read our
rules
for further information.
Drop a comment if you're snagging please. ^_^